Alright, y'all. It's time to talk fashion. DIY fashion.
Today I'm participating in my first link party, hosted by Sandra at
Sawdust and Paper Scraps
. So many of you have been mighty nice in your comments this week on our
brand new kitchen
, which we did (almost) all by ourselves, but Sandra is
legit
. Her tutorials are awesome, her before and afters are stunning, she's the real deal. Not just a DIY tourist like me.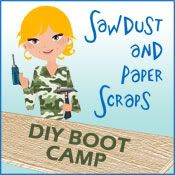 Today's topic: accessorizing your fashion looks for safety. Just check out
Sandra's post
in which she models her DIY fashions. So now it's my turn, with the help of my tiny modeling assistants. (P.S. No animals were harmed in the making of this post.)
Eyewear: Your most important DIY fashion accessory. Bella never leaves the house without her eye protection and a little mascara.
Don't let your eyes be the only part of you that's blinged out when DIYing! If you're using any loud power tools, it's time to trick out your noggin with some ear protection.
See the concern on Chelsea's face? That's her worrying that not everyone is properly protecting their hearing while using power tools! (What? Of course it's not her being afraid of the circular saw!)
To finish off your look when doing anything dusty like orbital sanding, you'll want to add a ventilator mask, and I'm especially fond of the ones with the blingy little valve.
(Geez! Someone tell that girl to suck it in and stand up straight!)
The accessories you should most definitely go without when topping off your DIY look? Any actual accessories, of course. Necklaces or dangly earrings and power tools don't mix!
If you enjoyed reading this post, why not subscribe or follow? And please comment!
xoxo,